Microsoft Partner of the Year 2020 - Digitalization Partner for SMB
We are really proud to announce we've been awarded Microsoft Partner Award 2020 in the category Digitalization Partner for SMB. The last couple of years we've assisted several SMB-companies, including ISVs, with making the shift to Microsoft's cloud-services and solutions built in Azure.
Microsoft highlights our focus on cloud-based service solutions as one of the reasons for our win. They also point out how we've been able to make a scalable model built for both big and small businesses because of our focus on automation. They say SMB-companies will play an important role in innovation for Norway in the future. According to Microsoft will access to the right, but also scalable technology tailored to each business, be crucial for the companies' effectiveness.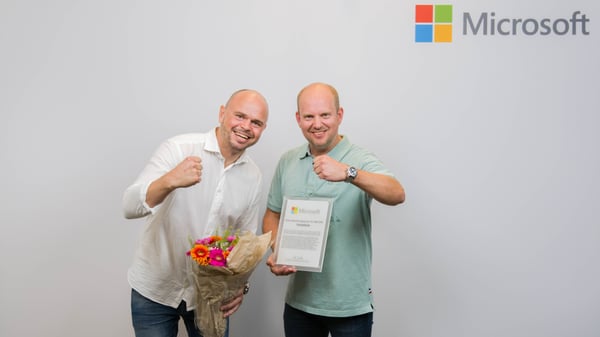 – It's a recognition from Microsoft saying we're doing something right. It also lets us know they see what we are doing and how we're helping both big and small businesses digitalize and shift to modern solutions in a good and effective way, says Harald Wiborg Karlsen, our Sales & Relations Director.
Microsoft is also impressed by the way we implement their technology. Specially with modern workplace and solutions built in Azure. Wiborg Karlsen emphasizes how important it is for us to earn this recognition and explains how it proves we've succeeded with our strategy.
– Our goal is to be way ahead of our competitors, be leading in technology and constantly follow the new updates from Microsoft and implement them into our clients' service-solutions, he says.
Finally, Microsoft compliments us for our seminars focusing on their cloud-services saying they are of high professional quality.
– On behalf of everyone at Ironstone I'm proud of winning this award, Wiborg Karlsen adds.
– This is also an assurance for our existing and new clients, proving we are best at what we do.
We want to give a big thanks to Microsoft and all our amazing clients!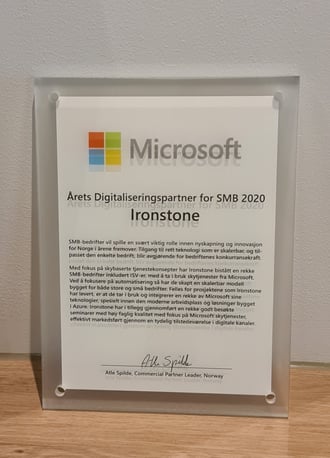 «SMB-companies will play an important role in innovation for Norway in the future. Access to right and scalable technology tailored to each business will be crucial to the companies' effectiveness. With a focus on cloud-based service-solutions Ironstone have assisted several SMB-companies, including ISVs, make the shift to Microsoft cloud-services. By focusing on automation, they have created e scalable model built for both big and small businesses. Ironstone uses and implements several of Microsoft's technologies in their projects. Specially in modern workplace and solutions built in Azure. They have also held numerous of well-attended seminars with high professional quality focusing on Microsoft's cloud-services. These have been effectively marketed through an apparent presence on social media." - Atle Spilde, Commercial Partner Leader, Norway