WORKSPACE
One dashboard for everything YOU need
Having to log in to several portals in one workday is a well-known problem. How about just having one where you have ...
---
Having to log in to several portals in one workday is a well-known problem. How about just having one where you have everything you need, with one-click access?
The Challenge
We constantly try to find a way that improves business. The focus on internal processes and efficiency is greater than ever before. 70% of employees say flexible working makes a role more appealing*. Our own expectations make the old ways and solutions even more outdated.
Some companies are stuck in the same outdated solution and not in a place where they want to change from the known. With more millennials and updated employees on the way in, it's time to do a reality check. The software you implemented in your business many years ago, may not be the best anymore and are probably not having the effect they once did. You don't have to search for long before you find something that gives you more for less.
Let's check out one of the options!

The solution
A cloud dashboard that truly works for every business, and every person in it. It brings everything together and everything you need. It allows you to work from your browser on any device, where and when it suits you best. You can customize the dashboard, so it fits your different departments and people. Nobody works the same way, so why should their dashboards be the same?


"The easiest workspace ever created. We can publish anything there, making it super easy for anyone to find what they need. A single workspace for a company? Oh yes! It can even convert Citrix and RDP streams to HTML5, so any application will work, and the best part is that you can sign in with your Azure AD identity" - Cloud Offering Manager & Solution Architect, Morten Reinhardtsen

Let's take a look at what the dashboard looks like for a few different people in Company X.
John Doe, CFO
The organization communicates a lot on yammer as the office is split up into multiple departments over 2 floors of the building. John likes to have an overview of the factored revenue, as he likes to have this as a reminder every day. The Power BI integration enables John to have live tiles showing him the latest reports from the ongoing projects. It saves him from everytime going into the application just to check key data.
He uses the Visma Business solution, and the dashboard allows him to sign directly in with a single sign on. John keeps himself updated with news from his favorite finance site, which he easily added to his dashboard in a few seconds.
Sarah Birming, New employee
She has just started at the company, as a customer service manager. The Yammer tile was pre-set together with the applications Teams, Skype, People and LinkedIn. CRM will be an important application for Sarah as that's where she needs to log and follow the activity and cases regarding customers. She is planning to add the things she needs to her dashboard over the next few days. She experiences that what's already added to the dashboard for her by Company X, makes it easy to navigate and find the applications she needs on the new device.


The future is mobile
Work isn't like it was 5 years ago. With the rapid speed of developing better and broader internet connection and smart devices, the ways in which we prefer to work have changed. We like to have more of the flexibility we get at home also at work. Everything should just work when and where we want it to.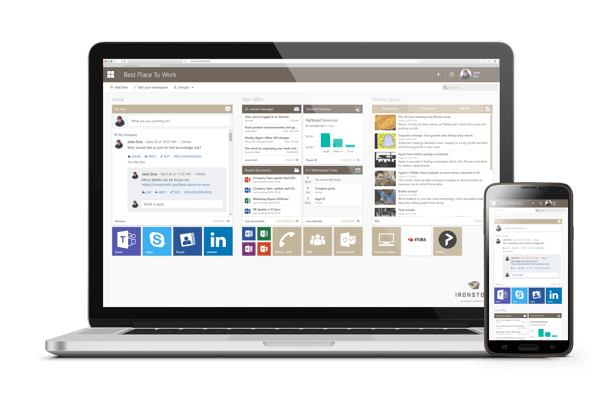 This is perfectly aligned with our serverless, modern workspace solution – Best place to work. Check it out here . The whole solution can be set up in the dashboard connecting every part of your business, including the application that doesn't support 100% cloud yet.
Feel free to contact us if you would like some more information about the cloud dashboard or Best Place to Work solution.
*Source: CDN Mobile Productivity Survey 2016