Microsoft continuously update their products and services and we love it! But sometimes it's not always easy to keep track of everything. Here is an overview of the news in Windows Autopilot.
If you haven't yet heard about Windows Autopilot here is a small recap.


"Windows Autopilot is a collection of technologies used to set up and pre-configure new devices, getting them ready for productive use. In addition, you can use Windows Autopilot to reset, repurpose, and recover devices. This solution enables an IT department to achieve these things using an easy and simple process, without having to manage much infrastructure."

In short, by using Microsoft Azure AD and Intune, an organization can prepare a corporate, user-ready image in which the user needs to:
Connect to the network

Verify credentials
And the rest of the process is automated, such as Windows settings, personalization, and application deployment. If the user needs to reset the computer because of some software error or if we need to reenroll the device for some reason, the process is the same as described above.
If you have heard of and even done some testing with Windows Autopilot, you may know that Microsoft launched some exciting news in version 1803:


Self-Deploying mode
Power on* is all it takes to deploy a new Windows 10 device into a fully business-ready state—managed, secured, and ready for usage—no need for any user interaction. You can configure the device to self-deploy into a locked down kiosk, a digital signage, or a shared productivity device—all it takes is power on.


Windows Autopilot reset
Makes it possible to completely reset and redeploy an Intune-managed Windows 10 device into a fully business-ready state without having to physically access the device. All you need to do is click a button in Intune!


Enrollment Status page
This enables IT admins to be assured the device is configured into a fully business-ready state prior to users accessing the desktop. This is made possible with a capability called "Enrollment Status" and is available today with Windows 10 April 2018 Update (version 1803) and Microsoft Intune.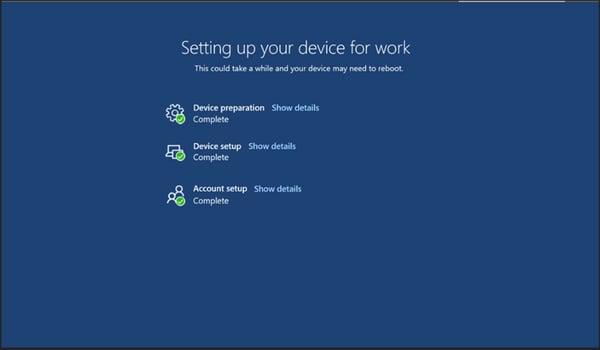 Device vendor supply chain integration
Makes the registration of Windows Autopilot devices completely hands-free and zero-touch for you as well as your device vendor/OEM. All you need to do is contact your device reseller to find out if they support Windows Autopilot.


Automatic Windows Autopilot profile assignment
Integrated Azure Active Directory (AD) dynamic groups with Windows Autopilot and Microsoft Intune deliver a zero-touch experience for Windows Autopilot profile assignments on all Windows Autopilot devices.
If you are interested in learning more or seeing Windows Autopilot in action, contact us and we can help your organization to explore and adopt Windows autopilot.