KUNDEHISTORIER: MONTEL
Montel provides their employees with more flexibility without compromising security
Cloud Migration (CSP) & Cloud Workforce
Montel provides information to the European energy markets. They deliver market data, news, and analysis to their customers across numerous online platforms. They have offices in nine European countries and are close to 100 employees.
An on-prem solution suited their needs at the beginning
Since Montel first started covering the Nordic electricity markets in the 90s and until now, they've had steady growth. In the beginning and throughout the years, a local Microsoft Exchange server hosted on-prem did the job. But as soon as they grew bigger in size, they realized they needed to enter the cloud.
– We expect the company to continue to grow, says Montel's IT manager Jan Christian Tørnby.
– Our software developers need to keep this in mind when working on existing and new projects to ensure that our platforms can scale and match an increased number of users in the future. The need for more and better hardware is expected to rise as well, and this is one of the reasons we look to the cloud.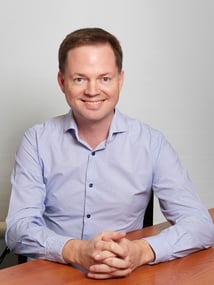 Photo: Montel
Used to be a very time-consuming process
Montel started their journey to the cloud about four years ago when they switched to Office 365. Even though Office 365 gave Montel a lift and worked very well for them, they still had issues related to the setup and maintenance of their new employees' laptops.
To set up a new computer for an employee working at the Berlin office, they first had to look for a laptop with a German keyboard layout and then have it delivered to their offices in Oslo. They then had to configure it to match their policies and add it to their local domain before shipping it to Berlin. And the user could often struggle to log in the first time because they first had to connect to Montel's network in Oslo using VPN to get in contact with the local domain server, Tørnby explains.
When the new employees eventually got their new computer up and running, they still experienced limitations to what they were allowed to do with it. For example, any minor new software install would need manual approval by an IT administrator, and they needed to stay connected with a VPN to get access to Montel's shared files.
Increased flexibility to the employees
Their next step was, therefore, to look for ways of simplifying this. They decided to switch to the Cloud Workforce solution because it worked well with their existing Office 365 and Microsoft OneDrive. After the switch, the configuration process has changed completely:
– Now we tell our employees, wherever they are, to just go and get a computer with the following specs, go home, fire it up, and choose "log in with your company account" and everything is handled, Tørnby says.
With a modern cloud-based solution, their employees also have a lot more freedom to do what they want without compromising security - even small things such as changing the mouse and keyboard settings needed to go through the Oslo office before.
– We previously had a solution to distribute software to our clients called Software Center. But we did not have the knowledge or competence to administrate it properly, and we were never happy with it, he adds.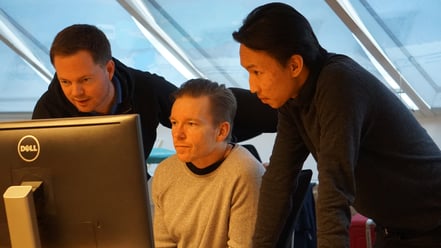 Photo: Montel
Found the right competence in Ironstone
Montel found the right knowledge and competence in Ironstone and is now utilizing Ironstone's expertise in cloud services. Tørnby is very pleased with the partnership.
– Ironstone took the leading part in the project of transforming our current solution into a Modern Workplace with features such as Autopilot. They were very efficient in setting up a plan with deadlines and everything and made sure that we had good progress along the way, he says.
– They also helped us set a plan, which included reinstalling Windows for all existing laptops in the company. They made sure that deadlines were kept and offered their expertise during smaller and larger issues along the way, in addition to an introduction to Sharepoint and OneDrive for the entire company.
All cloud-based within five years
Montel still hosts most of its customer services on-prem, such as web servers, databases, and API. Even though Tørnby thinks they have a good way of handling the clients today, they plan to migrate everything to the cloud within the next five years.
When embarking on their continued cloud-journey, Tørnby believes Ironstone will be a beneficial partner to have by their side. Together they are eager to explore the new possibilities that come with cloud services.
Oppdag vårt Azure for Developers-rammeverk
Når du ringer oss kommer du kanskje til å bli tatt imot av Amna, som er en av våre fantastiske hjelpere på kundesupport!