MEET THE TEAM
Travel Letter: Ignite The Tour
A part of the technical team went to Ignite earlier this year. The team chose different tracks to attend based on their ...
---
A part of the technical team went to Ignite earlier this year. The team chose different tracks to attend based on their focus areas. Here's a recap including highlights from the event.


Ignite is a conference where developers and tech professionals can continue to learn alongside experts. Explore the latest developer tools and cloud technologies and learn how to put your skills to work in new areas. Connect with the community to gain practical insights and best practices on the future of cloud development, data, IT, and business intelligence.>

"The event was vast, professional, and cool. Also, Amsterdam was a great city to visit."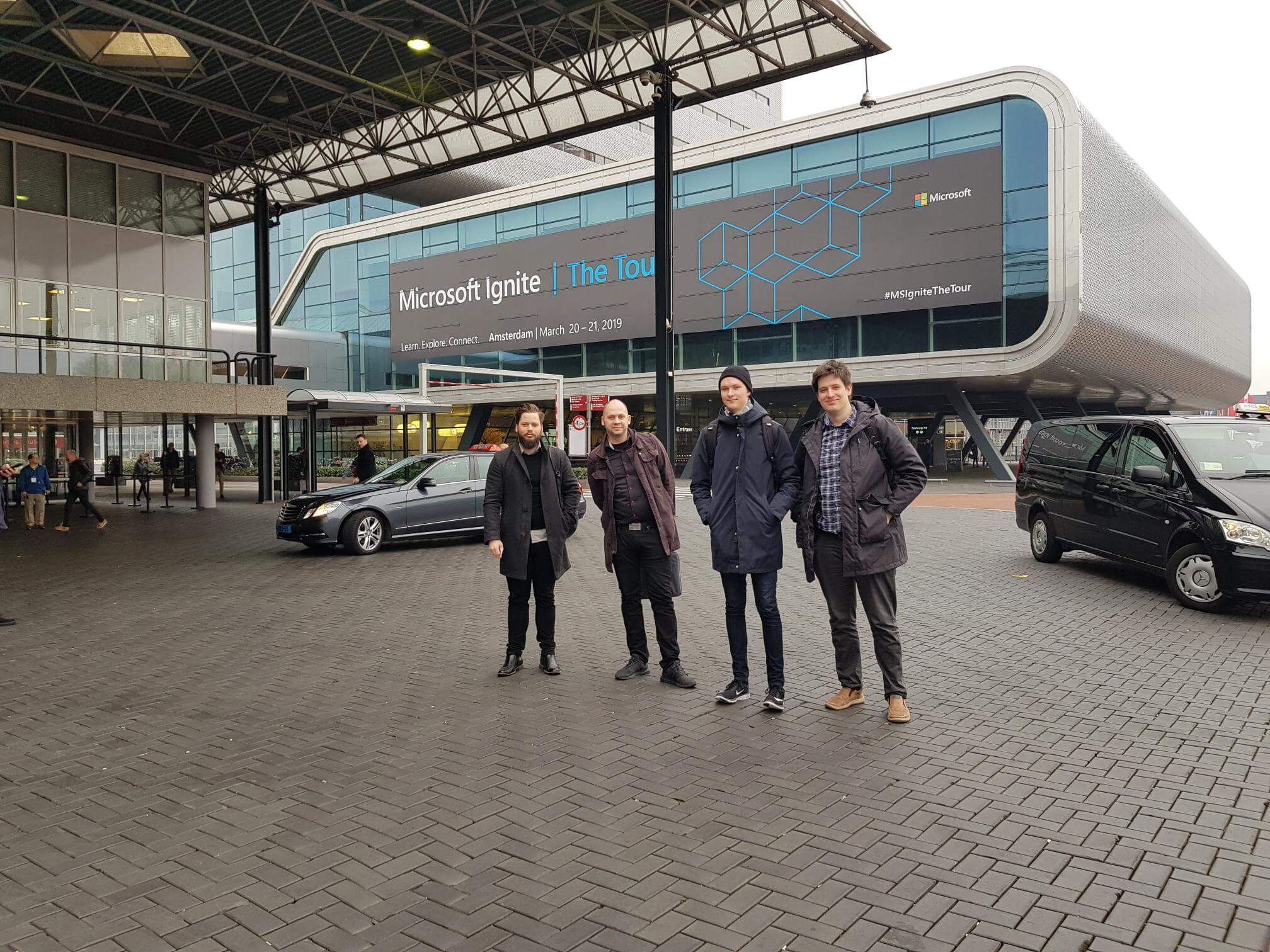 Niklas, Tomas, Olav & Aleksander.

Letter #1 by Niklas, Team Lead Modern Workplace:
I wasn't entirely sure what to expect since it was my first time going to Ignite. The tracks I was looking forward to the most were the Modern Workplace and security tracks.

Top 3 tracks:
BRK3418 - What's new in virtualizing Windows 10 and ProPlus.
The session was a real eye-opener for the Virtual Desktop solution from Microsoft. It's a true game-changer, and I firmly believe that this will solve a lot of virtualization issues for customers that are stuck on a Citrix platform. Add to that the integration with Samsung DeX, and you have a freaking awesome solution.

BRK3453 - Office 365 datacenter residence and multi-geo
A great session about how the multi-geo tenancy works within Office 365, a solution that is beneficially for global companies.

SEC20 - modernize your identity and access management with Azure Active Directory
A good session that confirmed a lot of things we already do; It was great to get a confirmation that we are doing stuff right. There was a lot of talk about zero trust networks (which is also cool), and some great new B2B/B2C features.

The event lived up to my expectations, where the more technical sessions (level 300 & 400). We realized rather quickly that some of the low-level sessions (levels 100 and 200) were too low.



Letter #2 by Damir, Cloud Operator - Modern Workplace:
My expectations for Ignite was to listen to speakers with in-depth knowledge of Microsoft products and learn from experts that could give the right answers to technical questions.

I went to a few sessions in regards to PowerBI and other topics. But it was the ones on Microsoft Threat Protection that left an impression.

Top 3 tracks:
Brk3434 – Leveraging Automation to Power Microsoft Threat Protection
It contained some great demo's that showed how easy you could secure and automate your organization.

Brk3531- Risk Reduction for Your Endpoints Using Microsoft Threat Protection
The Speaker was excellent at explaining and showing the bigger picture and the value that Microsoft Defender ATP brings to organizations. I will use the method as an inspiration in further discussions.

Sec40 – Leveraging the Power of Microsoft Threat Protection to Secure the Modern Workplace Across Identities, Endpoints, and more.
It was a great session showing the value of the overhauled ecosystem of Microsoft Threat Protection, and how all the services work even better together.

Most of the speakers lived up to my expectations, and I found that the experts could answer the questions I had. All in all, I'm happy with the event.


Letter #3 by Olav, Cloud Expert - Azure
At Ignite, I had a focus on attending the Azure tracks. I was looking for a semi-high technical level on the speakers, and that at least some of our questions could be answered and taken seriously by the experts in the breakout sessions. I expected to learn about new features and to come back with new ideas/solutions that will help solve the challenges we face.

I was looking most forward to sessions regarding Kubernetes, and sessions about DevOps and monitoring.

Top 3 tracks:
1. Modernizing Your Infrastructure: Moving to Infrastructure as Code

2. Monitoring Your Infrastructure and Applications in Production
Where we got examples for Log Analytics and other monitoring solutions in Azure I haven't thought of earlier.

3. Diagnosing Failure in the Cloud
We got cases for Log Analytics and other monitoring solutions in Azure I haven't thought of previously.

Some of the expectations I had were met, and most speakers and courses were good. But some speakers were not very inspirational and did not live up to the given course title. I though DevOps and Kubernetes would be the coolest topics at Ignite, and they ended up being disappointing, at least for me.
I'm happy to have attended Ignite, but I think it will be a while until next time. When comparing two regular working days with what I got out of two days at Ignite, I honestly feel like I learn more just by working at Ironstone.