WORKSPACE
The Windows Virtual Desktop is here - so should we be excited?
Work today is a completely different ball game to even ten years ago. We can now log in to the programs we need from ...
---
Work today is a completely different ball game to even ten years ago. We can now log in to the programs we need from pretty much anywhere, and on whatever device works for us best.
As a supplier of modern workplace solutions, we know full well that cloud-based apps are already part of the everyday employee experience and with this in mind, it's easy to feel slightly underwhelmed by the announcement of a new Windows Virtual Desktop—especially if you're already using a remote desktop service.
So what's so exciting about this new product from Microsoft, and why should you bother working it into your current set-up? We've spent some time picking out the interesting bits for you—here's what you need to know…
Firstly, what exactly is a virtual desktop?
A virtual desktop is exactly as it sounds: it's a 'desktop session', run through a virtual machine that an employee can access through the cloud. They can use all of the applications they use normally without having them locally installed, and work securely with nothing more than an internet connection and a log in.
In contrast to using business apps, which can often be a bit clunky (especially when switching between different apps), Windows Virtual Desktop gives the user a complete cloud-based desktop view. This means they can switch between different programs, copy things between them and minimize, maximize and pin different windows just as they would on a normal desktop—avoiding those unexpected log-outs and annoying switching problems that make you want to throw your laptop against the wall.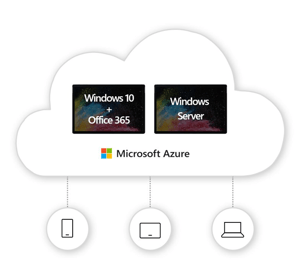 Haven't virtual desktops been around for a while?
Yes, that's true. But while virtualized desktops and remote desktop services (such as Citrix) are nothing new, the new Windows Virtual Desktop does represent the next evolution of the technology. Microsoft have paid careful attention to the performance, simplicity and security of the experience to make it more intuitive for both the people in the business who use it and the IT teams who need to manage it.
One key difference with the Windows Virtual Desktop is that desktop instances, along with their apps and operating systems are hosted in the cloud and are kept separate from the organisation's infrastructure. This reduces the risk of confidential data being stored and lost on a personal device, and also means that the service can be delivered from a datacenter close to the user, so the performance is optimized for them.
Azure-based deployment lets IT teams easily administer an integrated multi-session environment to support hundreds of users, drawing on all the built-in security, compliance and management tools of the platform. It's also now easier to move legacy applications from Windows servers into the Azure cloud, giving businesses the ability to easily scale and manage them.
It's also clear that Microsoft has designed the platform with employee productivity firmly in front of mind, letting users work not just with Office apps such as Word and Excel, but also their day-to-day Teams chats and Sharepoint sites—and it runs on any device that supports HTML5 (that's pretty much everything), letting employees choose which device they want to work from, with no extra burden on IT.
Why should I move to this solution from another?
For businesses that are already using a remote desktop service but who also have, or are thinking about a Windows 10 enterprise subscription, there are some significant cost benefits to using the Windows Virtual Desktop, as the licensing for this service is included in the subscription. In contrast, those using an existing Citrix solution will need to buy separate licenses for both their server operating system and Office ProPlus.
Another thing that's worth mentioning is that the Windows Virtual Desktop offers a native Windows 10 desktop experience; it's designed to work fluidly with existing Office 365 subscriptions with the platform also managed by Microsoft as a Platform-as-a-Service to minimize friction for the people who actually use it.
"Windows Virtual Desktop offers a native Windows 10 desktop experience; it's designed to work fluidly with existing Office 365 subscriptions"
So, should we be excited?
In short, yes you should. Especially if you're looking for less complexity and easier management for your remote desktop service—or if you have grand plans to scale-up your remote operations; with this solution, you can launch new virtual instances in minutes.
It should be very exciting if you're a business already using existing remote desktop services. Switching out your current solution for the Windows Virtual Desktop will give you a simpler and more cost-effective way to manage licenses—alongside an optimized, Windows 10 desktop experience in the cloud.
Above all else, the solution promises a next-generation remote working solution, providing the right level of support to let your business stay in control, without hindering the productivity of your dynamic and flexible modern workforce. We're definitely excited.
Find out more about how Ironstone can support your Windows Virtual Desktop.