COMPANY
The Game Changer - Ironstone
Information technology is becoming one of the most strategic decisions for your business. Every business is focused on ...
---
Information technology is becoming one of the most strategic decisions for your business. Every business is focused on how to be effective, how to increase collaboration, digitalization and the fourth industrial revolution. And do not forget security & privacy during the process. What does this mean and how do you respond? The technological revolution will truly change the way we think of IT, from agreements to consumption.
'This is the reason we started this company' says the duo of CEO`s, Tormod Eek (Norway) and Peter Backman (Sweden) in Ironstone.
Ironstone will make your business gain immense benefits based on our expertise in the cloud with the velocity, speed and system impact. Now that we are finally up and running - We look very much forward to take on the market.
Here are the key pointers:
Get the right IT foundation
First things first, it does not matter how much you focus on security, digitalization or automate processes if you do not get the right base. We need to understand what the cloud can offer instead of focusing on what the cloud cannot offer. And the key is velocity, speed and system impact. In other words, the service catalogue. The cloud offers a service catalogue like nothing you gave seen before; the speed from test to deployment, the dynamics and the speed of improvements and new services and the fact that modern IT is disruptive in everything we know about IT, from legal contracts to consumption.
The Fourth Industrial Revolution Modern IT is called The Fourth Industrial Revolution. Modern IT will change everything we know about IT, from assessments, licensing & contracts to deployment and consumption.
How can you plan the future for your business with traditional IT services? Legacy service development gives you an outdated strategy and you will still pay for the legacy, both economically and in the opportunity to improve for the future. We need to stop the traditional way of thinking, we cannot try to adjust the traditional methods to the new revolution.
Do not worry about security or latency, first you have to focus more on getting the right foundation in place.
New working class in modern IT
The working class in modern IT are robots. Think about the possibilities when all devices are connected, no matter location or platform. What happens when one device has a security breach? The access to knowledge is unlimited. Modern client management is based on artificial intelligence handled by robots.
Identity and Governance
It all depends on identity and governance. Identity is more important than ever before. Access, roles, regulations, policy; it is all connected to you identity. Getting connected to a third party vendor; identity. Work with others outside your business; identity. Make sure no one share sensitive data outside your business; identity.
So lets say you have upgraded and "cloud on your terms". This means you have also moved the control and along with it, responsibility, back to your business. What is your governance model, which responsibility do the CEO have, how do you implement the framework internally?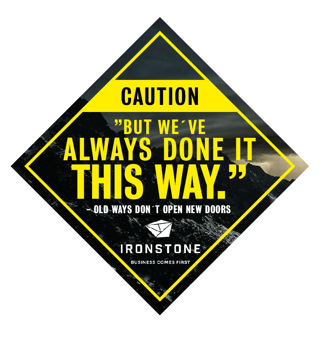 While looking for a cloud service provider, the company which you should consider is Ironstone. The company was launched the autumn of 2016, based in Norway and Sweden,
A team of experts and innovating people run this company, which has Microsoft and Lumagate as its partners.
The CEO in Norway, Tormod Eek with many years' experience from Microsoft and the CEO in Sweden, Peter Backman, formerly Sales Director in Advania, provides their immense expertise to run this business efficiently. Along with a team with experience from Microsoft and other providers they utilize their experience to take this venture to a higher level.
The Ironstone team work together to bring out the best in cloud computing and to provide customers with the most reliable and quality assured services which will help improve the working and efficiency of their business.
If you are looking for greater profitability and engagement on a deeper level - Don't hesitate to get in touch with us, so we can help you find the best solution for your business.
Updated: 24/10/17