Microsoft recently just made an internal mail migration tool generally available in the Exchange Online Admin Center for free. In this guide, we will show you how easy a mail migration can be with this new tool.
Migrating email from G Suite to Office 365 before had to be done with a third-party migration tool, all of which usually have a per user/per GB cost associated with them. Performing a mail migration with this new tool is simple and well documented from both Google and Microsoft. Here is how its done:
Preparations
There are a couple of preparation steps required:
1. Prepare the G Suite tenant and create a Google Service Account.
2. Enable these API usages for the newly created Google Service Account:
- Gmail API
- Google Calendar API
- Contacts API
3. Grant access to the service account in the G Suite tenant.
4. Create and add a sub-domain for mail routing to Office 365
In the Office 365 tenant, you need to make sure that all the users are provisioned before you start the migration. It can be done manually, or if your organization uses Azure AD Connect, it can be configured to auto-provision users. We recommended that the user objects use the same primary address on both tenants for better matching.
The Migration
After completing the list of preparations above, all that needs to be done is to go to the Exchange Admin Center > Recipients > Migration tab. From there, you can start a new migration batch, choose Migrate to Exchange Online and G Suite (Gmail) migration.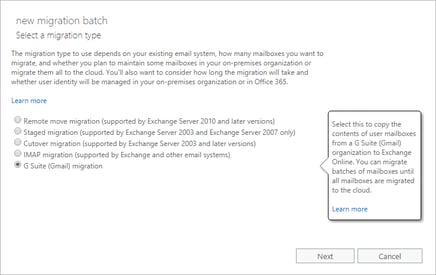 Here you will need to upload a CSV file with the users you want to migrate. The format of the CSV is EmailAddress (Header), with the primary email address of the users to be migrated in the batch.
EmailAddress
testuser@ironstoneit.com
….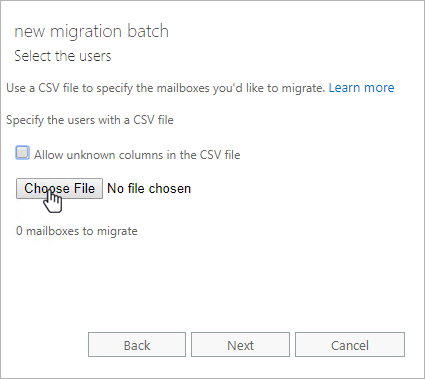 Furthermore, you will be prompted to enter the email address for the super admin in the G Suite tenant and upload a JSON key file, which will be provided during the Google Service Account creation. From here, it is the same way of migrating as the Exchange Hybrid to Exchange Online migration.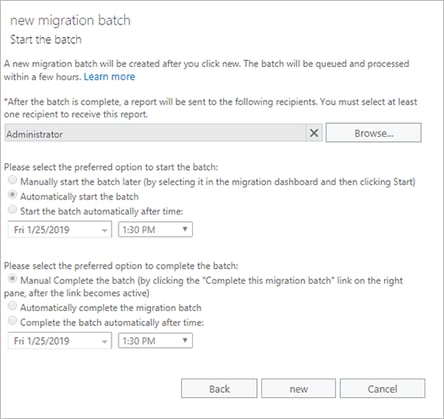 And the status of the migration can be followed in the Exchange Admin Center.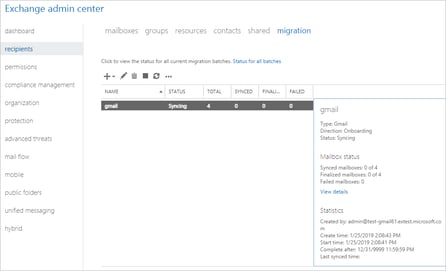 Limitations
There are a few migrations limitations to be aware of:
| | |
| --- | --- |
| Data Type | Limitations |
| Mail | Vacation settings, Automatic reply settings, Filters/Rules will not be migrated |
| Meeting Rooms | Room bookings will not be migrated |
| Calendar | Shared calendars, cloud attachments, Google Hangout links, and event colors will not be migrated |
| Contacts | A maximum of three email addresses per contact are migrated over |
| Contacts | Gmail tags, contact URLs, and custom tags will not be migrated |
Overall, the migration tool is a great new feature from Microsoft that has been missing for a while, and we at Ironstone are happy to see that it is finally available!

We will follow up on this blog with an article where we will talk about file migration from G Suite to Office 365. Stay tuned!