At Ironstone, we help customers migrate successfully to Azure without the common pitfalls. After working with migrations to Azure for years, I now want to share the outlines of my framework.
Azure migration framework:

1. Initial meeting with the customer to find out where they are on their journey to the cloud.

2. Make sure Azure is set up according to best practices and establish the needed assessment tools.

3. Assess and map out the on-premises environment.

4. Pinpoint the workloads that need a closer look and further investigation.

5. Assess servers and solutions with the "6R's of Migration" framework. We are not here to do a common "lift-n-shift" migration but wish to make a difference by helping the customer get as close as possible to only running Software-as-a-Service (SaaS) and Platform-as-a-Service (PaaS).
6. Create a report that the customer can bring to the leadership. It contains the recommended Azure architecture, the solution migration paths, and the final estimated cost of running it in Azure.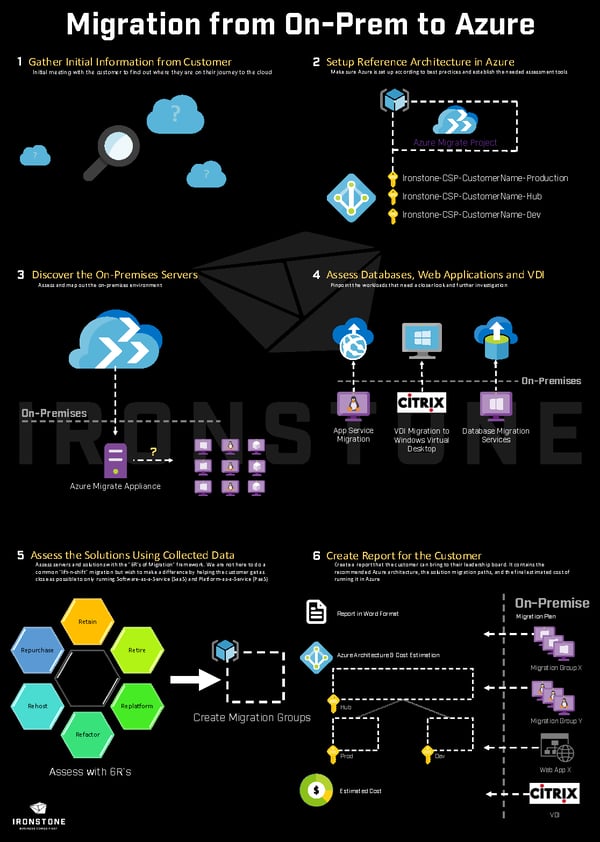 If you have any questions or need any help, don't hesitate to
reach out to my team or me here at
Ironstone
, and we will help you and your company succeed!