Oslo, Norway: We are pleased to announce that Jacek has joined the team as a Cloud Success Manager and Team Lead for the Operations Center.
Jacek holds a master's degree in Business Communication and Administration and has over a decade of experience establishing and managing projects and teams of various levels and types from IT, manufacturing, and digitalization.
- I enjoy creating commercial ideas and innovative solutions that deliver on business objectives and drive value for organizations.
He has worked in various technical and commercial roles across international teams from Scandinavia, Europe, APAC, LATAM, and the US. Jacek is truly passionate about business development driven by IT, innovation, and customer service excellence.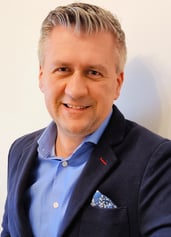 Why Ironstone?
- The entrepreneurial nature of Ironstone creates lots of drive and passion. I'm delighted to work with colleagues with high levels of positive energy, excitement, and enthusiasm. Working in Ironstone allows me to get to know my co-workers more personally and create a bond with everyone on the team. It's merely like being part of a close-knit family where I can be myself, give the best I have, and learn from the best.
Jacek also highlights the ability to work closely with the founders and management and have a real impact on the company's overall success. Finally, he believes it will be much fun to contribute to Ironstone becoming the leading cloud player in Scandinavia and the most recognizable brand on the market by providing a top-notch, cutting-edge customer service experience.
- I believe that my strong commercial drive with a "can do" attitude will have an immediate impact on the proper growth of Ironstone and help the team stay fit and well prepared for challenges and opportunities ahead.
Welcome Jacek, we are happy to have you on board!